Products // COVID-19 Outbreak Solutions
Cordless Electrostatic Backpack Sprayer
Patented Spraying Technology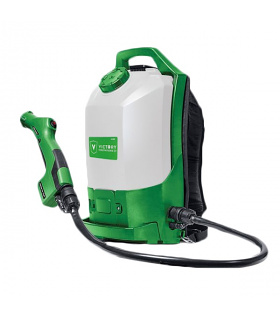 Patented electrostatic (double) charge penetrates chemical providing a thin even spray pattern on all surfaces
Approved for use with all Callington COVID-19 disinfectants
3-in-1 Nozzle (40/80/110 Microns)
Removable easy fill tank holds 8.5 litres of chemical
4 hours run time on a single charge
Description
Cordless Electrostatic Sprayer allows the user hours of spraying time without the hassle of dragging a cord. In addition, it is designed to save time and labour, spray less liquid, and cover more surfaces. Victory Sprayers' patented technology provides an electrical charge to solutions, allowing them to wrap conductive surfaces with an effective and even coverage. Double-charged particles envelope all conductive surfaces – shadowed, vertical, and underneath.
Certifications
SAA (JAS-ANZ)
RCM
cETLus (US & Canada) CE (EU)
NOM (Mexico)
FCC
RoHS
WEEE
Application
Charge battery - A fully charged battery will spray for up to 4 hours.
Unlatch tank release by lifting upward.
Remove tank by lifting upward and outward from the backpack base.
Fill the tank with Callington approved disinfectant. 
Any excess moisture on the tank should be wiped away before replacing the tank into housing.
Lower the tank onto the backpack base unit.
Secure tank by pressing down on the latch at top of the unit.
The optimum sprayer distance is 4–6 feet (1.22–1.83 m) from the surface being sprayed.
Spray in an "S" like fashion from top to bottom of surface areas.
Start at the opposite end of the room & progress toward the door to avoid walking through spray pattern & touching sprayed surfaces.
Ordering Info
| Code | Description | Size | Units/carton |   |
| --- | --- | --- | --- | --- |
| VP300ESK  | Cordless Electrostatic Backpack Sprayer   | each  |           1 |   |
|   |   |   |   |   |