Callington's Sherwin DUBL-CHEK CP-2 and BO-1: Spray Non-Stop At Any Angle
Oct 03, 2018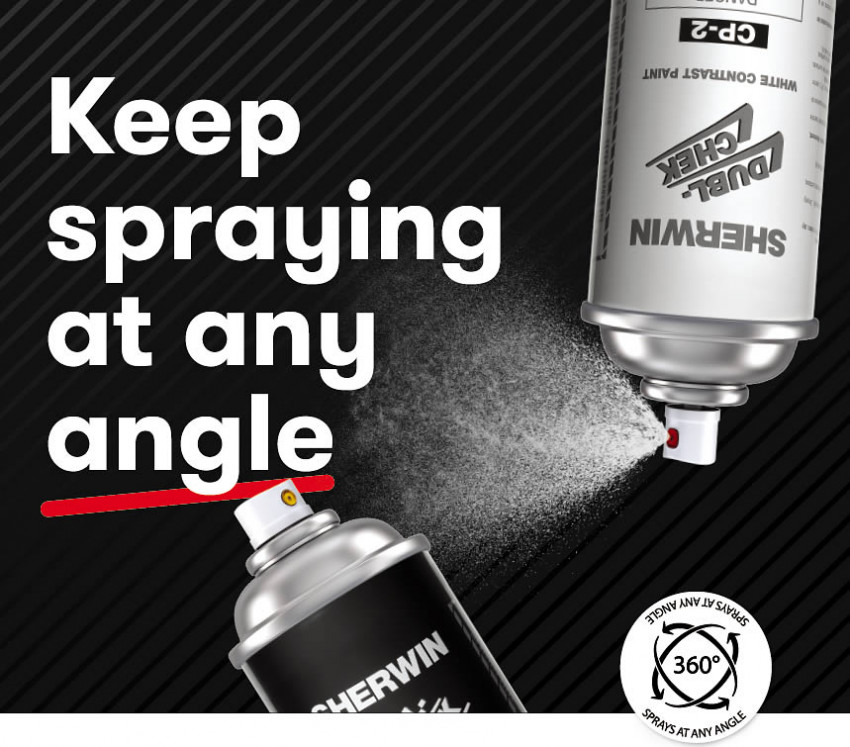 Hard to reach areas are now more accessible during magnetic particle testing thanks to enhancements made to Callington's specialty aerosol products. The problem of how to conduct a magnetic particle inspection on awkwardly shaped and sized parts or in high wind environments has been solved by the addition of a 360° valve and all-angle nozzle to the DUBL-CHEK aerosol testing products: CP-2 White Contrast Paint and BO-1 Black Oxide No.1 Magnetic Particle Oil Dispersion Spray.
As a manufacturer of specialty chemicals for aviation and industry, Callington works continuously to improve their industry solutions, as can been seen in the latest enhancements made to their CP-2 and BO-1 aerosols. The 360° valve now enables users to spray out the aerosols in any direction without interrupting the spray rate and flow, ensuring the application is comprehensively completed over all areas.
Magnetic Particle Testing is a type of Non-Destructive Test method where the magnetic current is applied to ferromagnetic metal materials to inspect for faults or defects that could fail in service. Where the magnetic field encounters a discontinuity, the magnetic flux passing through the material create leakage fields. Fine Iron particles sprayed across the product surface become attracted to flaws or discontinuities on the surface where the magnetic flux has leaked, providing the inspector with an indication of an issue.
As the testing relies on a visual interpretation of the indications, the magnetic particles must be easily distinguished from the base material. Given the materials being tested are metal, in many situations there is little differentiation or contrast between the material colour and the testing particles. To optimise observation conditions, CP-2 White Contrast Paint is initially applied to the material surface being tested. The fast drying, low odour paint is delivered through the aerosol spray, consistently and evenly, regardless of orientation of the aerosol. The white surface is then ready to provide the high contrast background to form the basis for testing.
Once dry, the magnetic field is introduced to the product, either using stationary or portable magnetic testing equipment. BO-1 Black Oxide No.1 Magnetic Particle Oil Dispersion Spray, which consists of iron particles suspended in light petroleum oil, is then applied across the surfaces, again taking advantage of the all-angle capability of the aerosol. The black particles are attracted to areas where the flux lines of magnetisation have been disrupted by flaws or discontinuities, and particles collect at the leakage fields producing black indications. The magnetisation is then rotated and repeated to capture potential flaws in all directions. Visual observations identify where the particles have congregated, and any flaws can be addressed or subjected to further investigation as required. When testing is complete, the CP-2 White Contrast Paint is easily removed using DR-64 Cleaner Remover.
CP-2 White Contrast Paint and BO-1 Black Oxide No.1 Magnetic Particle Oil Dispersion sprays meet or exceeds industry standards and specifications including: ASME Boiler and Pressure Vessel Code Section V, ASTM E709, ASTM E1444 and AS 1171, ISO 9934-2, MIL-STD-271, NAVSEA T9074-AS-GIB-010/271, MILSTD-1949, AMS 3041, AMS 3043, AMS 2641. A certificate of conformance is available for each manufactured batch.
With their unique spray nozzle and all-angle ability, CP-2 White Contrast Paint and BO-1 Black Oxide No.1 Magnetic Particle Oil Dispersion Spray aerosols make the perfect team deliver comprehensive magnetic particle inspection for a diverse range of complex parts thanks to their ability to spray non-stop at any angle.