Products // COVID-19 Outbreak Solutions
Ki-ose 395 Wipes
Surface Disinfectant Wipe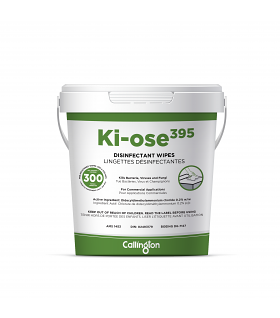 Kills 99.99% of most harmful bacteria
Germicidal solution for disinfection of surfaces and equipment
Safe for food contact
Ready to use
300 x wipes per tub - economical solution
Resealable air tight lid - prevents wipes from drying
Description
Ki-ose 395 Wipes is a high performance, disinfectant cleaner wipe for all hard surfaces. It provides broad spectrum disinfection in industrial, institutional, healthcare and household settings. For aircraft, it is effective for use in galleys, on trolleys, passenger seats and tablets, luggage compartments, all surfaces in lavatories and in the cabin. Ki-ose 395 Wipes will not harm or damage fabrics, plastic, metals, rubber or other surfaces. It has been tested against the relevant aviation material standards. It is compliant with the requirements of the Airbus Consumable Materials list and conforms to European Norms EN Standards.
Approvals
• Complies with AMS 1453, Airbus CML, Boeing D6-7127
• Conforms to all European Norms EN Standards
Application
For hard surfaces rub the wipe and let it act for a few seconds. A potable water rinse is required when disinfecting food contact surfaces.
Close the pack tightly after use to prevent the wipes from drying out. Discard used wipes and the empty sachet into a waste container. Do not flush in a toilet.
Efficacy Data
BACTERICIDAL: EN 1276, EN 1040
Ordering Info
| Code | Packaging | Units/ Carton | Carton weight | Carton Dimensions (cm) |
| --- | --- | --- | --- | --- |
| 9170/30 | Puch/Bag | 30 | 15.8kgs | 40 x 34 x 36  |
| 9170/005 | Single sachet | 1000  | 7.5kgs | 37 x 22 x 34 |
| 9170/100 | 100  (canister) | 12  | 6.5kgs | 44 x 33 x 19 |
| 9170/300 | 300 (canister) | 6 | 9.2kgs | 56 x 38.5 x 19 |