Products // COVID-19 Outbreak Solutions
Netbiokem Single Shot Sanitiser
Non-Flammable Room Sanitiser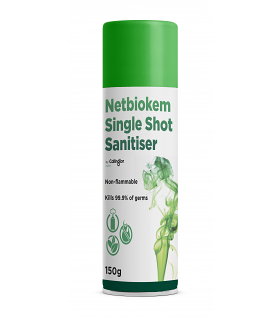 Non-flammable and non-toxic aerosol
Formulated with natural anti-bacterial ingredients
Kills 99.9% of germs & bacteria fast
Single-use, full release, super fine fog - no wipe down required
Available outside of EU/USA
Description
Netbiokem Single Shot Sanitiser is a total release, single-use aerosol spray. It sanitises entire rooms for complete protection against germs and bacteria. Once activated Netbiokem Single Shot Sanitiser emits fine dry fog particles that settle on all exposed surfaces, killing 99.9% of germs and bacteria in all the hard-to-reach places. Netbiokem Single Shot Sanitiser also contains eucalyptus oil, which is a natural anti-bacterial ingredient. Safe to use on all hard and soft surfaces such as fabrics, plastic, metals, rubber, or other surfaces. Formulated to meet both Boeing and Airbus specifications.
Areas of use 
For indoor use only Netbiokem Single Shot Sanitiser is ideal for use in office environments, cruise liners, vehicles, medical facilities, hotels, casinos, resorts, universities, warehouses, showrooms, schools, aged care facilities, hospitals, churches, trains, taxis, domestic environments, buses, veterinary clinics.
Directions for use 
PREPARATION: Remove all people, pets, toys, and uncovered food from the area to be sanitised. Ensure all foodstuffs are packed away in sealed containers. Turn fans off. It is suggested to temporarily disable or cover smoke alarms. Place a sheet of newspaper underneath the can in the centre of the room.
APPLICATION: With the can facing away from yourself, press the single actuator all the way down and lock to activate. Immediately exit the area to be treated, closing all doors behind you. The fogger will automatically deplete itself within 70 seconds from activation.
POST TREATMENT: Keep the treated area closed and do not re-enter for at least 60 minutes. Ensure proper ventilation of the treated area before re-entering. Any food preparation areas should be rinsed afterwards once sanitising is completed.
Ordering Info
| Code | Description | Size | Units/carton |   |
| --- | --- | --- | --- | --- |
| 9189/150 | Netbiokem Single Shot Sanitiser  | 150ml | 24 |   |
|   |   |   |   |   |