Products // Industrial Cleaners & Degreasers
Mildew Free
Fungicide for the Control of Mould, Moss, Lichens & Algae Growth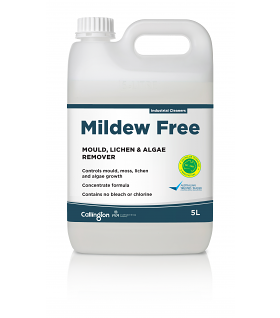 Quickly and efficiently kills fungi and bacteria
Helps prevent algae growth
Free from acids and is a mild detergent
Non-corrosive to roof gutters and down pipes
Description
Mildew Free is a water soluble fungicide designed to kill fungi and bacteria and to help prevent regrowth.
Directions for use
APPLICATION ON ROOFS, WALLS, OR OVERHEAD SURFACES:

Apply by soft bristle brush, swab, or spray.  Allow to soak into the surface and where possible allow at least 3 days without rain for treatment to take effect.  Dead growth can then be removed with a stiff bristle brush or by scraping or with high pressure water.  Alternatively, the dead growth can be left to gradually wash away by weathering.
APPLICATION ON PAVED AREAS, CONCRETE AND DRIVEWAYS:

Apply with a watering can or spray.  Either leave for 3 days without rain before removing or leave to wash away by weathering, or scrub solution into the substrate with stiff bristle brush then allow material to stand without drying for 30-60 minutes.  Use a jet of water or high-pressure spray to wash clean.
RESIDUAL ACTION:

Apply a solution diluted 1:3 with water and allow to dry on surface.
PRE-PAINT TREATMENT:
Remove mould and mildew from surface using a hot solution of Mildew Free diluted 1:3 with water.  Scrub and wipe clean.  Allow surface to dry then using a brush or roller, apply a coat of Mildew Free diluted 1:3 with water to the entire surface.  Allow to dry before applying paint.  Wear gloves.
Note: Mildew Free does not smell or act as a bleach and is non-corrosive.
ORDERING INFO
| Code | Packaging |   |
| --- | --- | --- |
| 4400/42 | 5 itres |   |
| 4400/51 | 20 litres |   |
|   |   |   |