Welding & Metal Treatment Products // Surface Treatment
Steel Bright Liquid
Stainless Steel Pickling Solution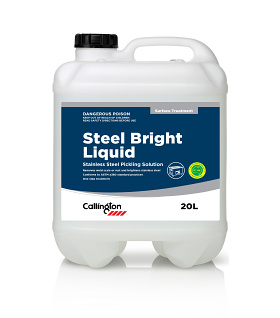 Conforms to ASTM a380 standard practices
Ease of application when passivating small parts, making it easy to reach all areas
One step treatment – no mixing required
Completely water rinseable
Description
Callington Steel Bright Liquid is an effective stainless steel pickling solution. It is used to remove weld scale or rust and brighten stainless steels. Callington Steel Bright Liquid leaves the stainless steel looking perfectly clean, for a professional finish.
Direction for use
1. Ensure surface to be treated is free of oil and grease as contaminants will reduce the effectiveness of the Steel Bright Clean.
2. Apply Steel Bright by dip immersion, wiping or spraying using a non-atomising acid resistant pump.
Application
Steel Bright is designed to be used neat and undiluted. Steel Bright can be used for spray and dipping/immersion applications. If spraying, do not allow surfaces to dry. For typical pickling times refer below:
| Grade | Pickling Time | Temperature °C |
| --- | --- | --- |
| 200, 300, 400 Series | 5 - 30 minutes | 21 - 50 |
| Duplex Grades | 60 - 90 minutes | 21 - 50 |
| Super Duplex | 80 - 120 minutes | 21 - 50 |
Ordering info
| Code | Packaging | Units/Carton |
| --- | --- | --- |
| 1110/51 | 20 litres | Each |
| 1110/64 | 200 litres | Each |