Aviation Products // Disinfection, Cabin Cleaning & Pest Control
Aero Screen Cleaner Wipe - Screenpad 2000
Anti-static Screen Wipe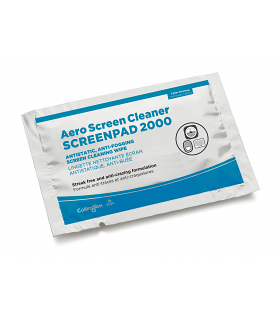 Easy to use streak free wipes
Formulated with anti-fog, anti-static and anti-crazing properties
Eliminates the negative effects of static electricity on cabin windows
Description
Callington Aero Screen Cleaner Wipe is an effective, widely used, aircraft approved screen cleaner. It removes dirt, grime and fingerprints without leaving streaks behind. Aero Screen Cleaner Wipe is formulated to have anti-static properties and can be used on a wide variety of surfaces.
Directions for Use
1. Tear open individual sachet.
2. Take out the wipe and wipe the surfaces to be treated evenly.
Approvals
• AMS 1534C / 1535C
• Boeing D6-7127
• Rockwell Collins
• Thales
• Matsuchita
Physical Properties
| | |
| --- | --- |
| Density: | 0.99 ± 0.01 g/mL |
| Colour: | Light blue liquid |
| Transparency: | Clear |
Ordering Info
| Code | Packaging | Units/Carton | Region |
| --- | --- | --- | --- |
| AR0000088 | 5g | 2000 x 5g wipes | Globally |