Aviation Products // Disinfection, Cabin Cleaning & Pest Control
Aero Gum Remover
Ready to Use Liquid Based Gum Remover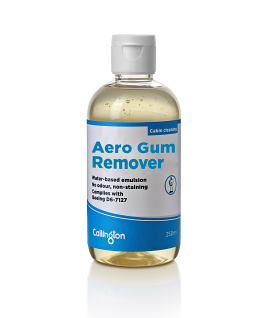 Rapid removal of gum within 5 minutes of application
Non staining water based formulation
Description
Callington Aero Gum Remover is an effective, ready to use liquid-based product that removes chewing gum and adhesive labels from aircraft surfaces. It also has the capabilities of removing fresh ink stains from aircraft surfaces.
Directions for Use
Gum Removal
For gum removal apply a liberal amount of Callington Aero Gum Remover onto affected area. Work product into gum and wipe gently over the stain (avoid hard rubbing).
Repeat the process for any fresh ink stains.

Adhesive Label Removal
For Adhesive label removal apply a liberal amount to the adhesive label. Leave for 3 to 5 minutes, then wipe area with a lint-free damp cloth.
Approvals
• Boeing D6-7127
Physical Properties
| | |
| --- | --- |
| Density: | 1.01 ± 0.02 g/mL |
| Colour: | Faint yellow viscous liquid |
| Transparency: | Clear |
| Viscosity at 20॰C: | 40 – 55 Ps (spindle #5, 10 rpm) |
Ordering Info
| Code | Packaging | Units/Carton | Region |
| --- | --- | --- | --- |
| 2500/18 | 250 ml | 20 units | Globally |