Aviation Products // Disinfection, Cabin Cleaning & Pest Control
Aero Oven Cleaner
Aircraft Approved GripFoam Oven Cleaner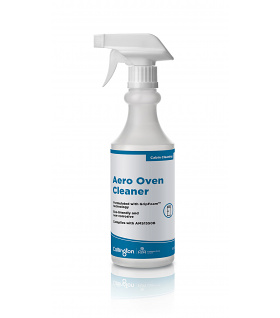 Foaming technology allows for greater coverage with minimal waste, resulting in quicker cleaning times
Removes grease and grime from oven internals
Anti-sag properties, will hold to vertical surfaces
Eco-friendly non-corrosive technology
Description
Callington Aero Oven Cleaner is an effective aircraft approved formulation designed for use in aircraft ovens. The unique GripFoam™ technology allows the product to cling to all surfaces within the oven, which allows for reduced cleaning time.
Directions for Use
1. Hold the bottle upright 15cm from the surface and spray evenly ensuring a uniform foam coverage.
2. Allow a dwell time of 10 minutes.
3. Wipe off with a damp, lint free cloth.
4. For stronger stains, repeat the application may be required.
Approvals
• AMS1550B
Physical Properties
| | |
| --- | --- |
| Density: | 1.01 g/mL |
| Colour: | Colourless liquid |
| Transparency: | Clear |
Ordering Info
| Code | Packaging | Units/Carton | Regions |
| --- | --- | --- | --- |
| 2100/25 | 500ml | 12 units | Globally |