Aviation Products // Disinfection, Cabin Cleaning & Pest Control
Ki-ose 320
Communication Systems Cleaner and Disinfectant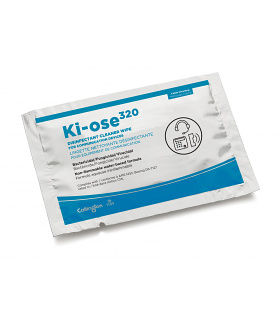 Kills 99.99% of harmful bacteria, viruses and fungi
Suitable for most communication devices, telephones, headphones, computer and technical equipment
Non-flammable and aircraft approved
Description
Ki-ose 320 has been specially produced for the disinfection and cleaning of surfaces. The wipe is used by the crew during flights for telephones, headphones, oxygen masks and toilet seats, compatible with all computer and technical equipment.
Directions for Use
Use the wipe on the surface to be disinfected/cleaned. Allow to act for several seconds.
Approvals
• AMS 1453
• BOEING D6-7127
• CML Airbus
COUNTRY APPROVALS
Ki-ose 320 is approved in the following countries as a registered disinfectant: Australia, Austria, Czech Republic, Denark, Estonia, Finland, France, Germany, Iceland, Latvia, Luxembourg, Malta, New Zealand, Norway, Portugal, Sweeden, UK, Canada, Mexico, UAE, India, and Thailand.



Efficacy Data
Floral fragrance
Shelf life: 3 years
Ordering Info
| Code | Packaging | Region |
| --- | --- | --- |
| AR0000246 | 1000 x wipes per carton | Outside of USA |