It's not just an air freshener
Jun 28, 2019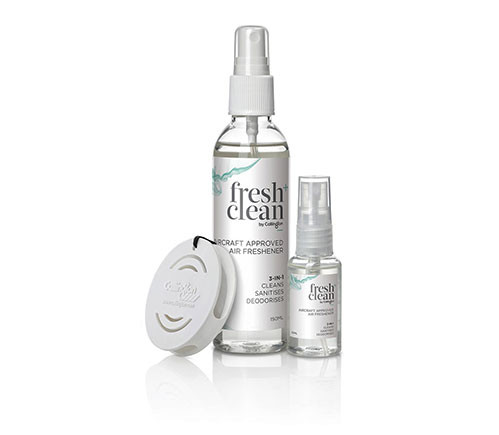 We have just launched our new Fresh+Clean air freshener and deodorant disc range to airlines globally.
A selection of nine new fragrances have been hand-selected from all over the world, helping to provide a pleasant inflight experience for passengers and the cabin crew.
Our Callington Fresh+Clean range is a versatile aircraft approved surface cleaner and air freshener, counteracting and nullifying unpleasant aromas. It has been designed for easy use by both the cabin crew and the line maintenance cleaning specialists. In most regions except for the Americas and EU, it can also be used as a disinfectant killing unwanted germs and bacteria.
Our fragrance selections have been inspired by many regions around the world from the Middle East, South East Asia, North America, Europe, Latin America, India and the Asia Pacific.
Our fragrance Bakhur captures a romantic, aromatic blend of the middle eastern spices and floral essence. Bergamot and Neroli is a natural creation of freshness with aromatic notes of lavender and eucalyptus transporting you back to your most endearing childhood memories. Our Citrus Herbal is a natural blend promoting mindfulness. Cotton Flower is a caring blend of delicate floral notes of rose containing zero allergens. Dreamline is a fun and colourful blend of lemon and sweet red apple leaving you to dream of a cherry blossom spring day. Floral Ascent is a blend of cucumber and lavender spices providing a rare combination of beauty. Lemon Citrus is a blast of lemon zest, helping to bring the outdoors in! Norwegian Spa captures a fresh crisp scent as if you were standing on top of a Norwegian mountain. Wild Ylang has been inspired by the rainforests of Indonesia and the Philippines promoting relaxation of the mind and body.
To complement the Fresh+Clean air freshener range, Callington also provides long-lasting deodorant discs, to be used in aircraft lavatories. The deodorant disc offers a consistent fragrance release over time. Available in three fragrances Dreamline, Wild Ylang and Lemon Citrus.
All fragrances are available globally.
For further information on our Fresh+Clean and aircraft inflight range please click here
.