Callington Disinsection Videos
Aug 31, 2018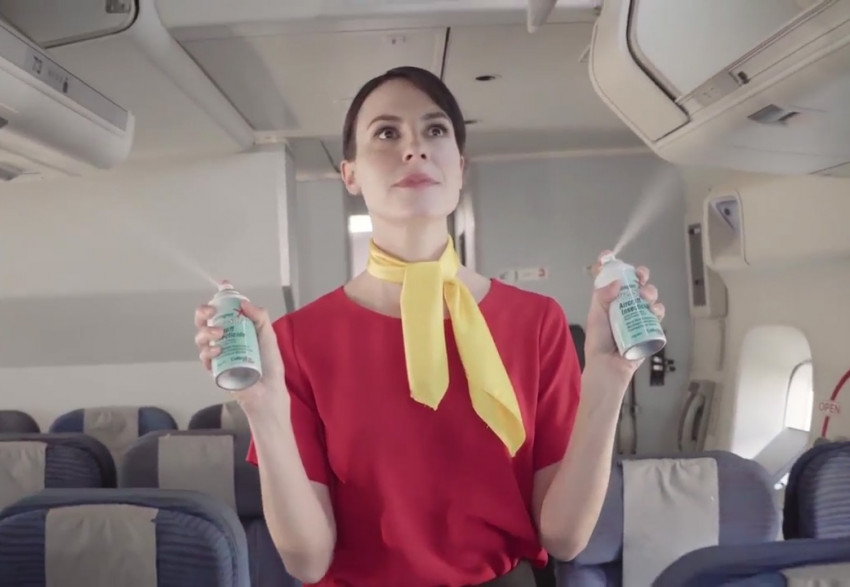 New instructional videos released by Callington have been designed to help aviation personnel quickly and easily learn the correct way to conduct pre-flight and top of descent aircraft disinsection using airline insecticides. By following the step by step instructions, airline staff can ensure they play their part in minimising the health and environmental threats posed by international travel.
What is Disinsection?
Disinsection is the term used by the airline industry to describe the process where aviation insecticides are used to prevent disease carrying insects and agricultural pests from being introduced to destination countries where they were previously not found. Many countries such as Australia and New Zealand require aircraft fumigation where aeroplanes are arriving from countries which are known to have insects which could post potentially harmful threats to human health or environment. The task of ensuring airline disinsection is correctly carried out and regulations are met falls on airline technical and operations staff who conduct the pre-flight aircraft disinsection and top of descent aircraft disinsection processes.
Callington Step-by-Step Videos
The two videos have been prepared by Callington to provide step-by-step guidance as to how to ensure their aircraft pesticide products are deployed in the most effective and efficient manner. Callington produces three aeroplane pesticide products specifically for aviation disinsection: Pre-Spray, 1-Shot and Top of Descent. The aircraft fumigation products use the pesticides permethrin or phenothrin (or a combination of both). These pesticides are proven to be the most effective against mosquitos, the insect most likely to spread diseases and viruses such as malaria, Zika, dengue and yellow fever. In just a few minutes airline staff can learn the straightforward steps to successfully applying the airline disinsection products and each video is available in English, French and Spanish.
The first video details the pre-embarkation aircraft disinsection process, which is the stage prior to passengers boarding the aeroplane but after catering and cargo has been loaded. For pre-embarkation aircraft treatment, Callington's Pre-Spray cabin airline insecticide aerosol product is sprayed by hand throughout the cabin area during a measured walk-through by cabin crew with all overhead lockers open. Once the cabin area is complete, they proceed through the aircraft to spray other key areas including the galleys, lift access areas, toilets, coat lockers, crew rest areas and the flight deck. During the pre-embarkation fumigation process each area is sprayed with the aircraft pesticide in a consistent manner for a specified duration, to ensure complete product penetration.
During the same period the cargo hold is sprayed with pre-embarkation aircraft insecticides by ground crew, using Callington's 1-Shot aerosol. Unlike the cabin spraying handheld process, the 1-Shot aircraft pesticide is placed in the hold, doors partially closed and the product triggered. Immediately afterwards, the cargo doors are shut and remain so until the flight is complete. Empty pre-flight aircraft insecticide cans stay in place during the flight and are removed by ground crew on arrival at the destination. Throughout the pre-embarkation airline disinsection procedures the aircraft's air conditioning is turned off and remains so for an additional five minutes after completion. Crew are also advised the aircraft fumigation pre-embarkation processes are underway as the aerosols can trigger smoke alarms in some instances.
The second video details the Pre-Flight and Top of Descent aircraft disinsection procedures which occur as the plane shifts from cruise to descent mode prior to landing, using Callington's Top of Descent aircraft insecticide spray. At this time cabin crew proceed through the cabin area in a similar manner to the pre-embarkation airline disinsection. During this phase the overhead lockers remain closed and the spray is directed towards the ceilings and away from passengers.
Callington Spray Rate App
To ensure the appropriate amount of aviation insecticide is applied to comply with the necessary standards, airline staff now have the ability to check requirements using Callington's mobile app, Spray Rate. This easy to use app allows them to select their destination and aeroplane type and receive specific advice on the amount of aircraft disinsection pesticide required for the pre-flight aircraft disinsection and top of descent aircraft disinsection phases of the flight.
All Callington aviation disinsection sprays are all non-flammable, do not contain CFC propellants, are approved specifically for airline use, and comply with World Health Organisation specifications. Callington's Pre-Embarkation aircraft insecticide spray method is also approved by Australia's Department of Agriculture and Water Resources and New Zealand's Ministry for Primary Industries, making it suitable for arrival in both countries.
By following the simple steps shown in the videos to deploy Callington's pre-flight aircraft insecticides and Top of Descent aircraft insecticides, airline staff will be well placed to help ensure the aviation industry plays its part in protecting human health and the biosecurity of the destinations to which they travel.