Products // COVID-19 Outbreak Solutions
Novex
Alcohol free antibacterial liquid hand sanitiser.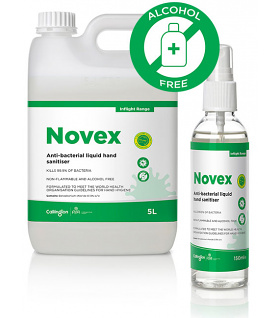 Kills 99.9% of bacteria fast
Non-flammable and alcohol free formulation
Using key active ingredient recommended by the Australian Department of Health for efficacy against COVID-19
Formulated to meet the World Health Organisation Guidelines on Hand Hygiene
Description
Novex liquid hand sanitiser is specifically formulated to provide anti-bacterial protection in situations where exposure to different bacterial contamination is possible or likely. Novex includes Aloe Vera and is pH balanced to protect skin from dryness and irritation.
Approvals
• Formulated to meet the WHO Guidelines on Hand Hygiene in Health Care link here (shown on pages 35-36 and Table I.11.7)
• Corresponds to the US FDA concentrations for antiseptic hand rubs link here shown on page 17.
• Passes the Australian Therapeutic Goods Administration Option C test, which demonstrates anti-bacterial activity - see link here
Application
Apply 1–2 mLs to clean, dry hands.
Rub over the whole hand surface until dry.
Repeat for full effectiveness. Do NOT rinse off.
No water or towel is required.
Ordering Info
| Code | Description | Size | Units/carton | Units/pallet |
| --- | --- | --- | --- | --- |
| 9029/150 | Novex Anti-Bacterial Hand Sanitiser | 150ml | 24 | 1,224 |
| 9029/42 | Novex Anti-Bacterial Hand Sanitiser | 5L | 4 | 96 |
| 9029/51 | Novex Anti-Bacterial Hand Sanitiser | 20L | - | 32 |
| 9029/1000 | Novex Anti-Bacterial Hand Sanitiser | 1000L | - | 1 |