Aircraft Inflight // Passenger & Crew Protection
Alize Liquid Hand Wash Soap
Dermatologically Tested Liquid Hand Soap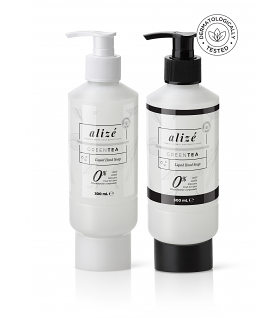 Dermatologically tested – kind to sensitive skin
Formulated includes plant derived ingredients
Biodegradable formulation
Bottles can easily be refilled
Free from the following

BHT
PEG compounds
EDTA
Siloxanes
Palm oil
Parabens*

Coal tar dyes
SLES
DBP
Triclosan*
Ethanolamine compounds
*Claim not available in the EU
Description
Thoughtfully formulated with plant-derived ingredients, Alizé Liquid Hand Soap leaves your hands feeling soft and safe, with a light green tea scent that is luxurious. Biodegradable and dermatologically tested, Alizé Liquid Hand Soap is kind to both your skin and the environment.
Application
Alizé Liquid Hand Soap is designed to be inserted into a purpose-made holder, attached to the basin area inside aircraft lavatories.
Directions for use
To use apply evenly over your hands, moisten with water, lather, and rinse well.
Physical Properties
| | |
| --- | --- |
| Appearance: | Liquid |
| Colour: | Pearl white |
| Odour: | Green Tea fragrance |
| pH: | Neutral |
| Flammability: | Non-flammable |
| Shelf Life: | 24 months (before opening), 12 months (after opening) |
Ordering Info
Item Code
Packaging
Units/carton
Dimensions/ Weight / carton
Pallet Configuration
Available Regions
9128/300S
300ml HDPE white pump (screw in base)
30 x units
38 x 32 x 22cm. 12kg
120 x 100 x 102cm
Outside of EU
9 cartons x 4 levels
9128/300F
300ml HDPE white pump (flat base)
30 x units
38 x 32 x 22cm. 12kg
120 x 100 x 102cm
Outside of EU
9 cartons x 4 levels
9128/300S/EU
300ml HDPE white pump (screw in base)
36 x units
38 x 38 x 20cm. 14kg
120 x 80 x 100cm
EU
6 cartons x 4 levels
9128/300F/EU
300ml HDPE white pump (flat base)
36 x units
38 x 38 x 20cm. 14kg
120 x 80 x 100cm
EU 
6 cartons x 4 levels
9128/42
5L HDPE
4 x 5L
39 x 27 x 31cm. 21kg
80 x 120 x 135cm
Global
8 x cartons x 4 levels