Metalworking Fluids // Cutting & Grinding Fluids
CalCool S4
High Performance Soluble Metalworking Fluid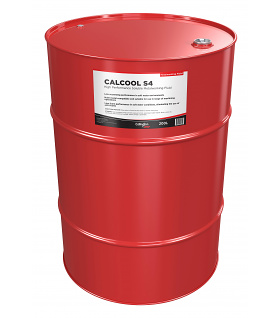 Multi-metal compatible, suitable for use in a range of machining operations
Stable, low scumming performance in hard water environments
Low foam performance in soft water conditions, eliminating the use of antifoams
Effective biocide system, to prevent bacterial degradation, and extend coolant life
Description
Callington Calcool S4 is a high performance, chlorinated soluble metalworking fluid. It has been formulated to provide excellent machining performance and surface finish using a unique blend of extreme pressure additives and corrosion inhibitors.

The product provides excellent product stability and bio resistance to provide consistent process operation at a reasonable cost.
Application
Callington Calcool S4 is a general-purpose EP soluble coolant formulated to meet the requirements of a wide range of machining applications, including general machining, drilling, reaming, and tapping. Callington Calcool S4 is suitable for machining cast iron, ferrous alloys, and non-ferrous alloys including aluminium alloys.
Recommended dilutions
Material
Cast Iron
Low-Medium Alloy Steel
Stainless Steel
Aluminium Alloys
Yellow Metals
Operation
4%
4%
4%
4%
4%
Grinding
Milling
4%
4%
4%
6%
6%
Turning
Boring
Drilling
4%
4-6%
5-6%
4-8%
4-8%
Deep Hole Drilling
Reaming
7%
7%
7%
8%
8%
Tapping
Ordering Info
| Code | Packaging |
| --- | --- |
| 7801/51 | 20 litres |
| 7801/64 | 200 litres |