Alizé – The next generation of aircraft hand soap
Jan 17, 2022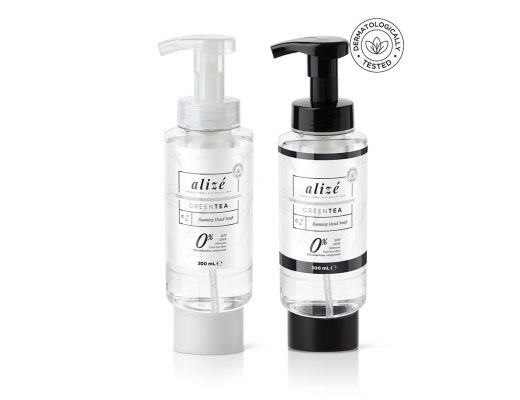 Better for passengers, the environment, and your bottom line
Dermatologically tested and biodegradable, Alizé is Callington's new range of aircraft hand soaps which are kinder on skin, add to an airline's environmental credentials and help to reduce operating costs.
This innovation in aircraft hand soap comes at a time when handwashing is an important part of the fight against Covid-19. Good hand hygiene is critical for both airline staff and passengers to help prevent the spread of the virus.
However, more handwashing – especially with traditional liquid soaps – can be tough on skin and lead to increased chemical, water and energy consumption.
Callington's innovative Alizé liquid and foaming hand soap products encourage good handwashing practices onboard while minimising impacts on the environment and keeping airline costs in check.
An eco-friendly and safe solution
Alizé is a world-first for inflight hand soap solutions, with the formulation being compatible with global product requirements including meeting the stringent demands for use in the EU.
Dermatologically tested, Alizé incorporates plant-derived ingredients making it kinder on sensitive skin and easily biodegradable. The unique formulation is free from chemicals such as BHT, BEG compounds, EDTA, Siloxanes, coal tar dyes, SLES/SLS, triclosan, parabens and ethanolamine compounds.
With the pleasant fragrance of light green tea, Alizé is a softer, safer hand soap which leaves skin feeling soft and smooth even after frequent washing, and without the dehydrating effects of standard soap formulations.
Foaming soap – the cost-saving option
While both liquid and foaming versions of Alizé possess environmental credentials, adopting the foaming alternative is an opportunity for airlines to also reduce costs and waste.
Independent research [i] found that while foaming soap and liquid soap were both effective at cleaning, foaming soap provided further benefits by:
Reducing water use
Saving energy
Reducing the amount of soap product used
Minimising packaging waste
The research showed that people used at least 16% less water when using a foaming soap, compared with when they used a liquid soap. Because the foam is aerated as it is dispensed, it is effectively delivered in a "pre-lathered" form. This means less water is needed for the soap to be spread effectively across hands.
As aircraft operators know, when a plane carries less weight, it burns less fuel per flight [ii]. Reducing the amount of water needed per flight therefore has the potential to create significant cost savings when multiplied by the thousands of flights taken each year.
Researchers also noted that people tended to use warm water to wash their hands. Any reduction in water usage would also mean less water heating is required, and therefore reduced energy costs for the aircraft.
The method of producing the foam (increasing the volume of a liquid by aerating) means each pump of foam is created using less actual soap product than a traditional liquid soap. As a result, less liquid is used each time but still cleans hands thoroughly.
With a smaller amount of liquid used for each handwash, more individual applications per cartridge are dispensed with the foaming option for the same package size. This results in soap dispenser bottles needing to be replaced less frequently, producing less packaging waste for airlines in the long term. Cartridges can also be refilled using the 5 L packaging size bottle, for either foaming or liquid products, helping airlines to meet their sustainability targets.
A simple initiative with multiple benefits
At a time when passengers and staff are being asked to wash their hands more, it make sense to switch to a product solution like Alizé which delivers multiple benefits for both the airline and users.
Adopting this simple initiative in aircraft bathrooms will lead to real cost savings for airlines, while enhancing the passenger experience and minimising environmental impacts.
i. Ann Durrant & Alexandra McKay, How a simple change in the washroom can significantly reduce water consumption and associated costs. Retrieved from: http://www2.debgroup.com/sites/default/files/Water Savings Paper_1.pdf
ii. Note: subject to quantification by the airline.