Callington Mobile App: Spray Rate
Aug 31, 2018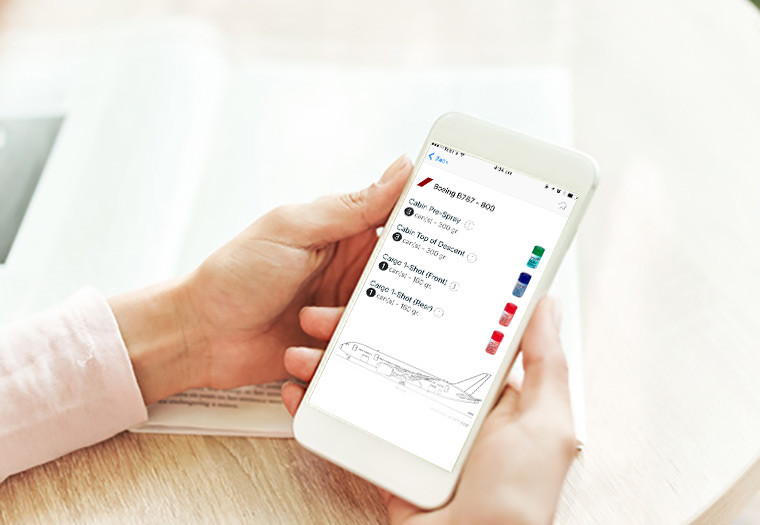 Busy airline personnel can cross one more task of their list thanks to a convenient new mobile phone app designed to assist with pre-flight aircraft disinsection and top of descent aircraft disinsection processes. Developed by Callington, manufacturer of specialty chemicals for the global aviation market, the "Spray Rate" app is set to make life easier for cabin and cargo crew alike by enabling them see at a glance the amount of aircraft insecticide which will give their flight biosecurity and quarantine compliance.
What is Disinsection?
Disinsection – the airline industry term for aircraft fumigation to destroy pests and insects – requires the use of industry-specific aircraft pesticide sprays for pre-flight aircraft disinsection and top of descent aircraft disinsection. Different countries have different regulations which must be met by incoming flights and how much aviation insecticide is required for airline disinsection varies depending on the aircraft. This is where the Spray Rate app becomes indispensable, enabling the user to check aircraft pesticide requirements by simply selecting their destination, aircraft type, make and model. The app uses that information to provide detailed advice on the amount of airline insecticide they will require to disinsect their aeroplane to meet the necessary regulations and standards.
Aeroplane disinsection revolves around two key airline fumigation phases which are described as "pre-embarkation aircraft disinsection" and "top of descent aircraft disinsection". To address the needs of each aeroplane disinsection phase Callington used its expertise in the area of specialty chemicals to develop three specific aviation insecticide products: 1-Shot, Pre-Spray and Top of Descent. Each airline insecticide aerosol contains the appropriate proportions of the key pesticide ingredients which act against insects (primarily mosquitos) which can spread diseases such as dengue, malaria, yellow fever and the Zika virus. The aircraft insecticide spray also targets insects which, if accidentally transported to a new country, could threaten agricultural industries.
How to use our aircraft disinsection aerosols
In the first flight phase, crew undertake pre-embarkation aircraft disinsection steps once catering and cargo have been loaded, but before passengers arrive. Armed with the aircraft fumigation information provided by their Spray Rate app, it becomes a simple matter for crew to deliver the Pre-Spray aircraft insecticide aerosols to the level prescribed. The size and type of aircraft will determine how many cans of the pre-flight aircraft insecticide spray are required to fumigate the inhabited areas. It ranges from, for example, 1 x 100gm can for a small jet to 5 x 100 gm cans of pre-flight aircraft insecticide for the interior of a commercially operated Airbus 380.

While staff treat the interior cabin and service spaces, ground crew utilise the 1-Shot aircraft pesticide product for the pre-embarkation aircraft disinsection of the cargo areas. Once the appropriate aeroplane details are selected, the app uses the known dimensions to determine the amount of aircraft insecticide required to fumigate the cargo areas and can recognise if there are front and rear holds and advise how much aviation pesticide is required for complete aircraft fumigation. Delivered slightly differently to the cabin Pre-Spray, the 1-Shot aerosol airline insecticide canisters are set in place and activated after the cargo has been loaded. The doors are then quickly closed and remain so until landing where the empty aviation pesticide canisters are removed by ground crew at the destination.
In the second phase of airline disinsection, where the top of descent aircraft insecticides are required, deployment commences mid-flight as the aircraft switches from cruise to descent mode. Crew simply walk the length of the cabin releasing the top of descent aircraft disinsection spray from the aerosols in the quantities as prescribed by the app. To further assist both cabin and ground crew with these top of descent aircraft disinsection and pre-flight aircraft disinsection tasks, demonstrations of the delivery methods for each phase can be seen in two instructional videos prepared by Callington and available on their website.
Whether flying commercial passenger flights, freighters, military craft or private jets, the convenience of the Spray Rate app will make it a timesaving, essential addition to mobile devices for all those involved in the pre-flight aircraft disinsection and top of descent aircraft disinsection processes.
The Spray Rate app is compatible with iOS 10.2 or later and android devices, and available for free download from iOS and Google Play.