Metalworking Fluids // Metal Forming Fluids
Evap Lube 230
Evaporative Stamping Oil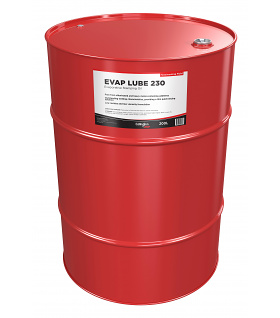 Contains high-performance boundary lubrication additives
Outstanding wetting characteristics, provides thin, quick-drying, lubricating film
Low residue characteristics can eliminate requirements for inter-process cleaning
Low viscosity formulation maximises flushing effect to aid removal of particulates from punches and dies
Reliable short-term corrosion protection
Low odour, cleaner working environment
Excellent operator acceptability
Formulated on mild odour, low aromatic hydrocarbon & free from chlorinated
Description
Callington Evap Lube 230 is a low viscosity, chlorine-free stamping fluid. It is a blend of high lubricity additives in a low odour, dearomatised hydrocarbon base oil.
Application
Callington Evap Lube 230 is specially formulated for use in light-duty stamping and punching applications, where very light residues are required after the operation, in most cases eliminating the requirement for inter-process cleaning.

It is suitable for use on light gauge uncoated steels, as well as zinc coated steels, aluminium, and yellow metals.

It is especially recommended for use in electrical steel stamping applications.
Ordering Info
| Code | Packaging |
| --- | --- |
| 7325/51 | 20 litres |
| 7325/64 | 200 litres |