Aircraft Inflight // Passenger & Crew Protection
Skin2P Body
Insect Repellent Spray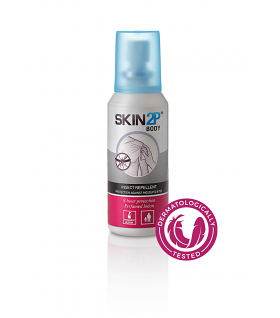 Dermatologically tested
Safe to use on sensitive skin
DEET free - Active ingredient: Icaridin
Provides protection for up to 8 hours
Non-flammable water based formulation
Non greasy moisturising solution
Suitable for women who are pregnant
Description
Skin2P Body perfumed and non-perfumed is an insect repellent for protection against mosquito bites, it is especially effective in tropical areas against mosquito bites (Aedes, Culex, Anopheles), which can carry vector-borne diseases (Malaria, Dengue, Zika, Chikungunya, West Nile). Skin2P contains no DEET which makes is safe for women who are pregnant and for children 6 months and above to use.
Application
Ideal in tropic areas, on Aedes, anopheles and Culex strains. May be applied to the entire body except the mucous membranes. Suitable for children who are 6 months and above and women who are pregnant.
Directions for Use
1. Spray directly onto the body parts to be protected. For the face, spray the product onto your hand first, then rub in. Ensure your skin is dry.
2. Spread the repellent evenly.
3. Repeat the application 2 - 3 times a day if sweating, and routinely after each swim. In humid climates, renew the application more frequently.
4. Apply the repellent at least 20 minutes after sunscreen.
Physical Properties
| | |
| --- | --- |
| Active ingredient: | Icaridin 20.6% |
| Appearance: | White emulsion |
| Odour: | Perfumed, pleasant odour |
| Flash Point: | Non-flammable |
| Shelf life before opening: | 36 months |
Ordering Info
| Code | Packaging |
| --- | --- |
| AR0006185 (EN) | 50 x 100ml per carton |
| AR0006187 (EN) | 100 x 30.ml per carton  |
| AR0006537 (EN) | 100 x 30ml per carton (non-perfumed) |
| AR0006158 (FR) | 50 x 100ml per carton |
| AR0006076 (FR) | 100 x 30ml per carton  |
| AR0006025 (FR) | 50 x 100ml per carton (non-perfumed) |