Products // Industrial Cleaners & Degreasers
AC70
Alkaline Degreaser & Cleaner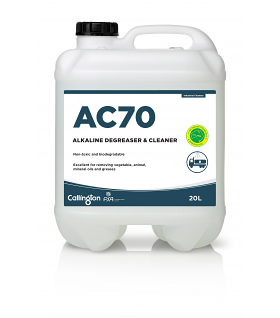 Biodegradable
Non-flammable, non-toxic & non-corrosive to metals
Effective for the cleaning of surfaces contaminated with vegetable, animal oils and fats, mineral oils and greases
Non-slippery when dry, thus avoiding injury to personnel
Safe to use on painted surfaces
Description
As AC70 is a strong alkaline detergent containing silicates, the normal precautions should be taken to protect skin and eyes. If accidental splashes are made to skin, wash with soap and water. If splashes to eyes occur, wash with copious quantities of water and seek medical advice. Refer to the Material Safety Data Sheet for further information.
Application
Suitable for use on wooden, steel, asphalt, and concrete surfaces. Will not corrode steel. Also suitable on non-ferrous metallic surfaces and painted surfaces. AC70 is used to clean airport hangars and ramps, industrial plants, and aboard ships
AC70 can be applied by swabbing, brushing, mopping or high-pressure wash. 1-part AC70: 10 parts water or stronger depending on the surface to be cleaned. Once applied, allow to remain in contact with the surface for approximately 15 - 20 minutes then rinse off using a hose or pressure water.
The resulting emulsion will not settle in drains or grease traps and will not cause blockages.
Health & Saftey
As AC70 is a strong alkaline detergent containing silicates, the normal precautions should be taken to protect skin and eyes. If accidental splashes are made to skin, wash with soap and water. If splashes to eyes occur, wash with copious quantities of water, and seek medical advice. Refer to the Material Safety Data Sheet for further information
Ordering Info
| Code | Packaging |   |
| --- | --- | --- |
| 2500 | 5 litres |   |
| 2550/51 | 20 litres |   |
| 2550/64 | 200 litres |   |