Aviation Products // Disinfection, Cabin Cleaning & Pest Control
Oven Kleen
Aerosol Oven Cleaner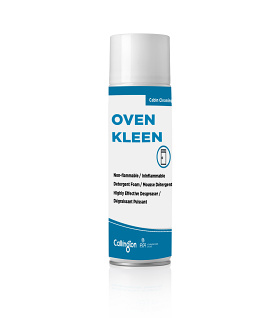 Effectively cleans ovens, roasters, grills
Sticky foam removes greasy deposits from ovens and accessories
Dissolves fats by turning them into soluble soaps
Non-flammable aerosol
EU compliant gas formulation
Effectively cleans ovens, roasters, grills
Sticky foam removes greasy deposits from ovens and accessories
Dissolves fats by turning them into soluble soaps
Non-flammable aerosol
EU compliant gas formulation
Description
Callington Oven Kleen is a non-flammable aircraft oven cleaner designed for use in turnaround cleaning. It is specifically formulated to remove tough burnt on grease and grime fast. Oven Kleen can effectively clean warm or cold ovens in as little as 5 minutes, allowing for reduced cleaning time.
Directions for Use
For Spot Cleaning:
1. Spray on cold oven from a 20cm distance.
2. Allow to stand for 30 seconds.
3. Wipe clean with a wet sponge or cloth.

For Heavy Duty Cleaning:
1. Preheat the oven at 70⁰C for a few minutes and turn off. Wait 10 minutes.
2. Shake the aerosol can well then spray evenly, in thin layers about 10cm from the walls.
3. Leave product for at least 5 minutes for best cleaning results.
4. Rinse with a damp sponge, then wipe off with a dry cloth.
5. Repeat the operation for stubborn stains if necessary.
6. After use, carefully rinse the spray actuator without removing it from the aerosol can.
Physical Properties
| | |
| --- | --- |
| Form: | Translucent gel |
| Density: | 1.00 g/mL |
| pH: | 12-14 |
| Colour: | Yellow |
Ordering Info
| Code | Packaging | Units/Carton | Region |
| --- | --- | --- | --- |
| AR0006540 | 400ml | 12 units | Globally |