Aviation Products // Aircraft Insecticides
1-Shot
Disinsection of Cargo Holds & Overnight Cabin Insect Treatment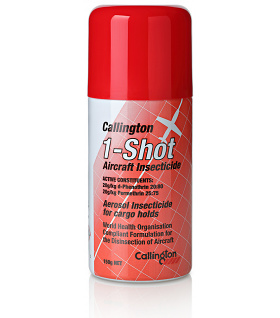 Tested and approved to Boeing, Douglas & AMS Specifications
Complies with Airbus CML 14-010B
Non-flammable aircraft insecticide
Disinsection of Cargo Holds
Overnight insect treatment
Packaging: 12 x 150-gram cans per carton
Description
Callington 1-Shot is a non-flammable aircraft approved aerosol insecticide for use inside the aircraft cargo holds prior to departure. This product is used to prevent the spread of vector-borne diseases, such as Dengue Fever, Yellow Fever, Malaria, Chikungunya, and Zika. It is also effective against a range of agricultural pests, which present a biosecurity risk.
Approvals
Callington 1-Shot complies with the World Health Organisation specifications for aircraft insecticides and has the following approvals.
Boeing D6-7127 and AMS 1450
NATO Stock Number: 6840-66-131-2263
CAGE Code: Z5104
In compliance with IATA Medical manual & ICAO Annex 9
Complies with Ministries of Health & Agriculture, globally
Callington is an ISO 9001:2015 quality accredited company
Application
1-Shot is to be used for cargo hold disinsection at the last port prior to departure. 
Treatment Procedure
Treatment must be carried out after all cargo has been loaded, and just before the hold door is closed.
Since aerosols may set off smoke alarms, be sure to advise the crew that hold spraying is about to commence.
As the cargo hold door is being closed, leaving just enough of an opening to stand a single 1-Shot can between the cargo containers.
Hold the nozzle down to activate the aerosol.
If more than one can is required, repeat this application method with additional cans.
When you see that the spray has been activated, close the hold door immediately, leaving the cans in place to complete the disinsection process.
Once the aircraft has reached its destination, the exhausted cans are to be collected by ground handlers.
Spraying of holds shall be carried out at a rate of 35g/100m3
Verification
The applicator is responsible for ensuring that a certificate detailing the hold treatment is completed. For compliance purposes, the applicator must record the product serial number, located on the underside of the can. The certificate for the hold disinsection and the exhausted or partly exhausted cans must be carried onboard the aircraft and made available to an officer/inspector on request upon arrival.