Aviation Products // Disinfection, Cabin Cleaning & Pest Control
Ki-ose 321-323-324-325-326
Broad Spectrum Disinfectant Cleaner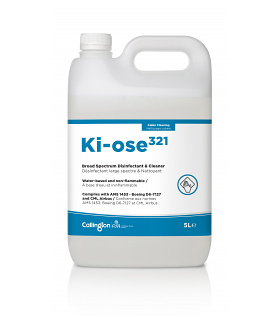 Convenient wide spectrum surface disinfectant
RTU no need for mixing
Non-flammable and aircraft approved
Suitable for use in food preparation areas
Description
Ki-ose321/323/324/325/326 is an all-purpose RTU disinfectant and cleaner for surfaces. It has been specially developed for the disinfection and cleaning of surfaces in aircraft. It is used by cabin attendants for many applications in galleys (surfaces in contact with food), and all surfaces on trolleys, in lavatories, and in the cabin.
Ki-ose321/323/324/325/326 is an effective disinfectant that will not harm or damage fabrics, plastic, metals, rubber, or other surfaces.
Directions for Use
Spray Ki-ose over the surfaces to be cleaned and disinfected. Allow 5 to 15 minutes contact time for disinfection before wiping with a lint free cloth.Do not rinse except if the surface will be in contact with food.
Approvals
• AMS 1453
• BOEING D6-7127
• Airbus CML 14-012


COUNTRY APPROVALS
Ki-ose321/323/324/325/326 is approved in the following countries as a registered disinfectant: Australia, Austria, Czech Republic, Denmark, Estonia, Finland, France, Germany, Iceland, Latvia, Luxembourg, Malta, New Zealand, Norway, Portugal, Sweeden, UK, Canada, Mexico, UAE, India, and Thailand.



Efficacy Data
| | |
| --- | --- |
| Active ingredient: | 0.1% w/w didecyldimethylammonium chloride |
| Physical State: | Liquid |
| Colour: | Colourless to slightly yellow |
| Odor: | Light floral perfume |
| Shelf life: | 3 years |
Ordering Info
| Code | Item | Packaging | Region |
| --- | --- | --- | --- |
| AR0006609 | Ki-soe 324 | 30ml | Outside of USA |
| AR0006464 | Ki-ose 325 | 100ml | Outside of USA |
| AR0006597 | Ki-ose 323 | 500ml | Outside of USA |
| AR0000253 | Ki-ose 321 | 5 Litres | Outside of USA |
| AR0006606 | Ki-ose 326 | 20L | Outside of USA |