Products // COVID-19 Outbreak Solutions
Netbiokem DSAM+
Hospital Grade Disinfectant Cleaner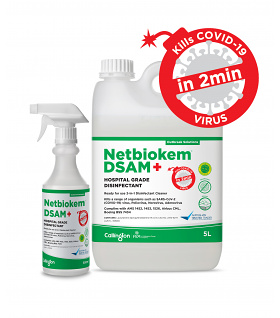 Kills 99.99% of most harmful bacteria, fungi, mycobacteria and viruses
Conforms to Virucidal Effectiveness European Standard EN 14476*
Conforms to Virucidal Effectiveness according to EN 17272 (Airborne Room Disinfection)
Australian TGA listed for COVID-19 claim (ARTG No.355810)
Kills SARS-CoV-2 (COVID-19) virus in 2 minutes,Norovirus, Poliovirus, Adenovirus, Influenza A (H1N1), Proteus vulgaris, Murine hepatitis, Enterococcus hirae, Pseudomonas aeruginosa, Salmonella choleraesuis, Staphylococcus aureus (Golden Staph)
Ready to use 2-in-1 solution, high level disinfectant and cleaner
Complies with material comparability for all types surfaces as per Boeing & Airbus specs
Suitable for all transport, commercial, industrial, health services, military and any essential services industry
Can be applied by spray, or by microdiffusion with an Ultra Low Volume (ULV) fogging machines
Description
Netbiokem DSAM+ is a water based ready to use 2-in-1 high performance disinfectant cleaner for all hard surfaces. It provides broad spectrum disinfection in industrial, institutional, healthcare and household settings.
Netbiokem DSAM+ kills SARS-CoV-2 (COVID-19) virus, Poliovirus, Norovirus, Adenovirus, Influenza A (H1N1), Murine hepatitis virus.
Escherichia coli (E coli), Pseudomonas aeruginosa, Salmonella choleraesuis, Staphylococcus aureus (Golden Staph), Proteus vulgaris. 
Netbiokem DSAM+ will not harm or damage fabrics, plastic, metals, rubber, or other surfaces. It complies with material comparability for all types of surfaces as per Boeing and Airbus aircraft manufacturer specifications. Netbiokem DSAM+ also conforms to European Norms EN Standards.
Approvals
• TGA approved for COVID-19 claim (ARTG No. 355810)
• Conforms to all European Norms EN Standards
• Conforms to  Virucidal Effectiveness according to EN 17272 (Airborne Room Disinfection)
• AIRBUS CML-11AAA2
• AMS 1526, AMS 1452, AMS 1453, Boeing D6-7127M, Boeing BSS7434
• CFM 56 -CP2712
• AIMS090-00-002
• Embraer -CPC-1841
• ASTM F483-09
• NATO Stock N0: 6840-14-59994327
COUNTRY APPROVALS
Netbiokem DSAM+ is approved in the following countries as a registered disinfectant: Australia, Austria, Belgium, Czech Republic, Denmark, Estonia, Finland, France, Germany, Greece, Iceland, Latvia, Luxembourg, Malta, New Zealand, Norway, Portugal, Roman, Sweeden, UK, Mexico, Indonesia, UAE, India, and Thailand.



Directions for Use
Australia only mandatory statements: Hard surface disinfectant only. Use undiluted. Do not mix with detergents or other chemicals. Not to be used on skin. Not to be used on medical devices or other therapeutic good.

SPRAY: If surfaces are soiled pre-clean with Netbiokem DSAM+ before disinfection. Spray only enough Netbiokem DSAM+ to just cover the surface. Do not over-wet. Wipe the surface with a cloth that is pre-wet with Netbiokem DSAM+ and allow up to 2 minutes contact time for disinfection. No need to re-wipe or rinse. For food contact surfaces, rinse and dry afterwards. Use biocides with caution. Read the label before use.

LIQUID/WIPE: Apply Apply Netbiokem DSAM+ liquid onto the wipe material until wet. Wipe and leave for up to 2 minutes to ensure complete disinfection. Wipe the surface with a clean dry lint-free cloth. It is recommended to also rinse and dry if the surfaces are in contact with food.

FOG: All fog treatments must be carried out in empty premises/areas with any air conditioning and recirculation systems switch off. Ensure all external doors are closed and any internal doors and any internal doors and small space closures are open. Positioning of static fogging equipment or movement of portable fogging equipment must be carried out to achieve a minimum dosage rate of 8mL/m3. Fogging applications must use the minimum amount of product and should not produce any pools or drips. If this is happening, then the product is being over-used and must be immediately wiped dry.

The target particle size can range between 10µm - 50µm however for optimal performance we recommend a range between 20µm - 30µm with fogging application.
Efficacy Data
BACTERICIDAL: EN 1276, EN 1040, EN 1656, EN 13727, EN 13697, AOAC (HSC), TGA Option B
FUNGICIDAL: EN 13697, EN 13624, EN 1275, EN 1650, 
VIRUCIDAL: EN14476, EN 17272, EN 16777, ASTM 1053
MICOBACTERICIDAL: EN 14338 
Ordering Info
| Code | Description | Packaging | Region |
| --- | --- | --- | --- |
| 9192/25 | Netbiokem DSAM+ Hospital Grade Disinfectant | 500ml | Australia & New Zealand |
| 9192/42 | Netbiokem DSAM+ Hospital Grade Disinfectant | 5L | Australia & New Zealand |
| 9192/51 | Netbiokem DSAM+ Hospital Grade Disinfectant | 20L | Australia & New Zealand |
| 9192/64 | Netbiokem DSAM+ Hospital Grade Disinfectant | 200L | Australia & New Zealand |
| 9192/1000 | Netbiokem DSAM+ Hospital Grade Disinfectant | 1000L | Australia & New Zealand |
| AR0004470 | Netbiokem DSAM+ Hospital Grade Disinfectant | 750ml | EU |
| AR000280 | Netbiokem DSAM+ Hospital Grade Disinfectant | 5L | EU |
| 9192/42/MAL | Netbiokem DSAM+ Hospital Grade Disinfectant | 5L | Malaysia |
| 9192/57/MAL | Netbiokem DSAM+ Hospital Grade Disinfectant | 25L | Malaysia |
|   |   |   |   |