Aviation Products // Disinfection, Cabin Cleaning & Pest Control
Ki-Gum / Ki Gum HFO
Chewing Gum Remover Aerosol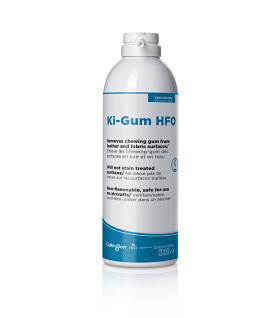 Non-flammable
Will not stain treated surfaces
Freezes the chewing gum for easier removal
Ki-Gum HFO available for EU region using alternative gas (1234ze)
Description
Ki-Gum / Ki-Gum HFO is used to remove chewing-gum from leather and fabric surfaces. It does not leave stains on the treated area and does not harm the surfaces treated.
Directions for Use
1. Insert extension tube into actuator for pinpoint application.
2. Spray by repeated and short blasts directly on the spot to remove.
3. The formula freezes the substance. Scrub or scrape off using brush and vacuum any residues.
4. Repeat application if required.
Approvals
PSA certified to ISO 9001 Version 2008 (since 10/07/2006)
NATO code: FA2X6
Physical Properties
| | |
| --- | --- |
| Physical state: | Liquid |
| Appearance: | Liquid under pressure |
| Boiling point: | -19°C |
| Density: | 1.18 g/cm³ 25°C |
| Solubility: | Water: 0.373 g/l |
Ordering Info
Ki-Gum
| Code | Packaging | Units/Carton | Region |
| --- | --- | --- | --- |
| AR0000087 | 400g | 12 units | Outside EU and USA |
Ki-Gum HFO
| Code | Packaging | Units/Carton | Region |
| --- | --- | --- | --- |
| AR0006574 | 250ml | 12 units | Globally |