Fuel and Engine Treatments // Truck & Bus
ROX® Diesel EcoPlus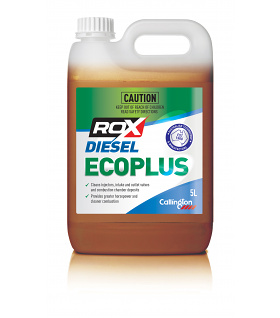 Injector Cleanliness & Powerful Biocide
Improved Lubricity & Fuel Economy
Improved Exhaust Emission
Enhances Fuel Stability & Demulsibility
Description
ROX® Diesel EcoPlus is a multi-functional diesel fuel maintenance product. It is specially designed to give an overall improvement on most aspects of fuel efficiency.
Application
The recommended treat rate is 1:500 for the initial first-time treatment and 1:1000 to 1:2000 for subsequent treatments.
Add 1 part of Diesel Fuel Additive to 500 parts of Diesel for the first treatment. Mix well
For subsequent treatment add 1 part to 1000 parts of Diesel
Handling
Combustible - Do not use near open flame or heat. Keep out of reach of children. Refer to the Material Safety Data sheet for further information.
First Aid
If swallowed - do NOT induce vomiting. Give a glass of water to drink. Contact a Doctor or Poisons Information Centre. If in eyes flush with plenty of water for at least 15 minutes. If on skin, wash with soap and water.
Ordering Info
| | |
| --- | --- |
| Item Code: | Size |
|  8285/30 | 1L |
|  8285/42 |  5L |
|  8285/51 | 20L |