Fuel and Engine Treatments // Truck & Bus
ROX® Care Metal Cleaner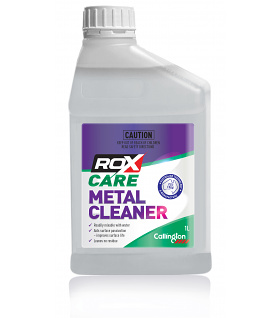 Readily miscible with water
Leaves no residue
Promotes surface passivation
Aids surface passivation – improves surface life
Wide dilution rate – gives a variety of uses
Description
ROX® Care Metal Cleaner is an acidic, biodegradable detergent designed for surface cleaning for stainless steel & carbon steel after fabrication. It is also suitable for in-situ cleaning of architectural stainless-steel surfaces. The metal cleaner removes surface dust, soil, rust, water stains, iron and organic contamination without affecting the surface finish of the stainless steel. It can also be used to remove surface corrosion and staining on handrails and other stainless-steel surfaces. It is excellent for cleaning of machined carbon steel parts.
Directions for Use
1. General Surface Cleaning After Fabrication: Mix 1 part of metal cleaner with 5 to 8 parts of water at room temperature. Spray onto surface by acid resistant spray pump. Some brushing of the surface will assist with removal of corrosion and difficult soils. The surface should be kept wet with the solution until the soil is gone. Rinse the surface; warm water is preferred.
2. Corrosion Removal: Where the surface of handrails, stainless steel cladding or process plant and carbon steel equipment shows visible signs of corrosion (rusting).
Application
Hand Wipe Application: Mix 1 part of metal cleaner with 1 part of clean water. Wet surface with a sponge or rag and follow immediately by scrubbing with a stainless steel Scotch Brite type pad. Rinse with clean water once all traces of corrosion are removed.
Spray Application: Mix one part of metal cleaner with 1 to 2 parts of clean water. Spray onto surface with an acid resistant spray pump. Where appropriate, scrub the surface with a Scotch Brite pad. For hard to use areas, use a high-pressure spray containing a 10% solution of metal cleaner. Rinse thoroughly with clean water when all visible traces of corrosion have been removed.


Safety Precautions
DANGER
May be corrosive to metal. Harmful if swallowed. Causes severe skin burns and eye damage. Toxic to aquatic life with long lasting effects.
PRECAUTION
Do not breathe dust/fume/gas/mist/vapours/spray. Wear protective gloves/protective clothing/eye protection/face protection. Keep only in original container. Do not eat, drink or smoke when using this product. Avoid release to the environment.
FIRST AID
IF SWALLOWED: Rinse mouth. Do NOT induce vomiting. IF ON SKIN (or hair): Remove/Take off immediately all contaminated clothing. Rinse skin with water/shower. IF IN EYES: Rinse cautiously with water for several minutes. Remove contact lenses, if present and easy to do. Continue rinsing. Immediately call a POISON CENTER or doctor/physician. Wash contaminated clothing before reuse. Absorb spillage to prevent material damage. IF INHALED: Remove victim to fresh air and keep at rest in a position comfortable for breathing.
STORAGE & DISPOSAL
Store locked up. Dispose of contents/container in accordance with local regulations.
Ordering Info
| | |
| --- | --- |
|  Item Code: |  Size |
|  8246/30 |  1L |
|  8246/42 |  5L |