Automotive // Auto After Market
ROX® Care Car Wash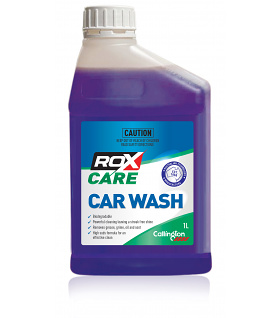 Biodegradable
Powerful cleaning leaving a streak free shine
Removes grease, grime, oil, and soot
High suds formula for an effective clean
Description
ROX® Care Car Wash is a mild alkaline and strong vehicle wash specifically formulated to remove dirt, soils, light greases/oil and road stains from cars, trucks and other on and off-road vehicles. It has a complex blend of surfactants, sequestering agents, natural solvents and corrosion inhibitor, which ensure a thorough clean effortlessly. It is safe for use on all metals.
Directions for Use
The car wash is a high foaming product that can be applied via High Volume (HV) and Low Volume (LV) foamers, sponged, broomed, or sprayed onto bodywork, glass and aluminium. It has remarkable rinsing capabilities and will not streak when hosed effectively. ROXCARE car wash is also suitable for use in automatic car wash installations.
Application
• Generally used at a concentration of 5-10%
• Can be used neat as a degreaser
• When using a high-pressure cleaner, the dose rate is 10-20 g/litre of water
• If time permits sponge or brush surface. If not, allow to penetrate for as long as possible
• Hose or pressure rinse away all residual suds. It is most effective to rinse from the bottom up to the top and back down to the bottom again. This rinses soils from crevices
• If practical, chamois all paintwork for a great result.
Ordering Info
| | |
| --- | --- |
| Item Code: | Size |
|  8243/30 | 1L |
|  8243/42 |  5L |
|  8243/51 | 20L |